NM SPECIAL ORCHESTRA 2022 EVENTS
(Check here for updates, or at Facebook/SpecialOrchestra)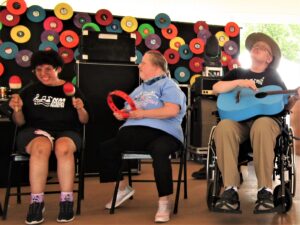 So far, this performance season has been MUCH better than last year's with shows at the NM State Fair, La Joya Music & Nature Retreat, Masquerade Ball, Pinata parties, regular sessions, and weekly ZOOM music, too. We still are not able to see all of our people, but we're trying, while striving to keep everyone safe!
Thursday March 17th, 2022, 1:00 PM
St. Patty's Day Performance
At The Belen Harvey House Museum
104 N. 1st Street, Belen NM.
Friday April 22, 2022, 1:00 PM
Earth Day Concert
Belen Public Library
333 Becker Avenue, Belen NM
Saturday May 14th, 2022, 1:30 PM
Concert For All Abilities:
La Joya Music/Nature Retreat
At The Thimble Theater
33 Calle De Centro Sur, La Joya, NM
Please RSVP for 12:30 Bar B-Q
(505) 864-3749
Tuesday May 17, 2022, 6:30 PM
Spring Gala Concert
At The Valencia Sheriff Posse Hall
Belen, NM
Saturday May 21, 2022, 10:15 AM
Performance / Workshop:
NM Special Olympic Summer Games
At The UNM Track Field
Albuquerque NM
REGULAR MUSIC SESSIONS
September 2021 through May 2022
(No sessions during June, July or August)
Bring an instrument or play one of ours.
You're welcome to join in or just listen and enjoy.
Valencia County Chapter
2nd Friday, Monthly
3:00 to 4:30 PM
Belen Public Library
333 Becker St
Albuquerque Chapter
Third Friday. Monthly
3:30 to 5:00 PM
Rosario BMSI
5200 Copper, NE
SPECIAL THANKS TO:
ROSARIO BMSI
and
The BELEN LIBRARY
For Our Rehearsal Spaces!
This project is funded in part by New Mexico Arts, a division of the Department of Cultural Affairs, and the National Endowment for the Arts.